New views this week trying to look at the positives and the things to be grateful for in my sober week. I do this every week,
last week
was quite different to this week. This week, there was a large reappearence of that voice telling me to drink and it was loud. This really threw me sideways. Some family stuff going on needing resolved. I took myself back up that hill my husband showed me the week before and sucked in some more views in sunshine.
And like being sober it was a steep climb, and not a lot of fun in places. But, worth the effort, and its getting more familiar. I know what to expect when Wolfie or the cravings for wine hit, I've been
snarky
. I know to distract myself and they'll go away eventually. I know the best place to be sometimes is either the bath or in bed. These are good hiding places.
Like the scenery around me, being sober, something I never considered I could do, is becoming familiar.
I also found myself in a few new places this week. I've stopped somewhere unfamiliar for a walk, whilst usually I stick to where I know. I'm naturally a cautious person, with everything but alcohol. I am new in my area, a bit like I am to being sober, I am having trouble making the connections between where I am and where I'm going and how to do it. And as I got over the crest of a wee hill, a beach opened up. To the right the views were to somewhere I knew and had walked many times before.
The views to the right were to somewhere I knew too.
I stood there thinking, OK I know where I am. I'm slowly having experiences and making connections and joining the dots in my new area to make me understand where I am more. And, of course for me, on that cold windy beach, familiar hounds scamping around at my feet, on familiar sands, it made me think. How much exploring and being new in this new area is like being sober. I'm finding out new things about myself. I'm making connections. I'm finding new ways to do things. I'm now, almost as long sober in this life, this new life as I was drinking. Imagine a new life where you're sober. I never could. Sometimes I don't know
where to start,
in this new sober life but I know that sober is better.
And let me tell you despite the new experiences and the treats and the taking time to look after me, my drinking voice Wolfie is still snapping at my toes. Even after throwing things at him. Last night I didn't manage to write. I was so desperate for a glass of wine. This week has been the hardest for a while. But, I've been armed. Armed with sober treats, armed with sober tools like go and have a bath, listen to a podcast, join in on a call, go to a group, ask for help. Applying lots of
sober love
. Saturday wasn't a bad day, in fact it was a lovely day doing a few chores together and walking. Nothing had set me off, no stress, no panic, it was an OK normal day. However I wanted to drink real bad and my head told me not drinking was utterly stupid. Normal people drink, especially on a Saturday night.
So last night instead of getting on with my planned evening, I had to go into sober best friend mode. I emailed Belle, I made a plan to abandon tea, I asked my husband to get a takeaway, which he gladly did. What I wanted to ask him for was wine, but having told him I feel better without it, can you really see him buying it for me? I got him on board earlier in this journey, we've talked a lot since even though I've been reluctant to share too much, I've been brave. So he'd never buy me wine now. Instead a takeaway, he set up the table in the lounge. I went for a long hot bubbly, candle filled bathroom, scents bombarding my senses and an emergency podcast on from Belle. I put on my pj's and started my sober Saturday night.
I hit sober reset, the craving passed, eventually but it was loud. Calmer, cleaner, softer, I sat and had a bit of time before my husband returned. Applying sober love sometimes has to come first. I'm learning that about myself. I'm learning that I need to listen to myself, and on occasion take out all the big sober guns and just blast Wolfie and drown the little sod.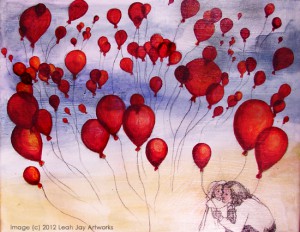 Today's day 99 for me. I think some red balloons don't you.
I do waffle on, so thank you for getting this far! If you've something kind or helpful to add or just want to say hello. Please drop a line below. I'd appreciate that. Thank you.